Once you click on the option to add the cemetery to your cemeteries, the option will then change to "Remove from MyCemeteries". Once you are finished downloading your entries from a cemetery, you can always click on this option to remove that particular cemetery from your list of cemeteries.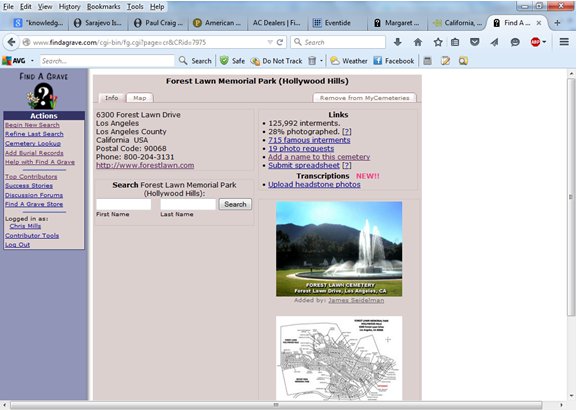 Just so you know, there are limits to how many memorials you can download the information for using this technique. I am not sure what the exact limit is, but I'm pretty sure it is not more than about 10,000 memorials. I know I have 30.000 memorials in one cemetery and if I want a file with those entries I have to email Find A Grave and ask them to send it to me, which they will do, but it can take them several days to send the file.
In any event, once you have added a cemetery to your list of cemeteries to be able to download it, return to your contributor page by clicking on your name on the left side of the screen. Everything I'm describing here assumes that you are logged into Find A Grave when you start, if you aren't you won't be able to do any of the things I'm describing.
The screenshot below shows a pretty busy contributor page, mine as a matter of fact. Looking at the top right part of the page, you should see a tab named "Contributor Tools".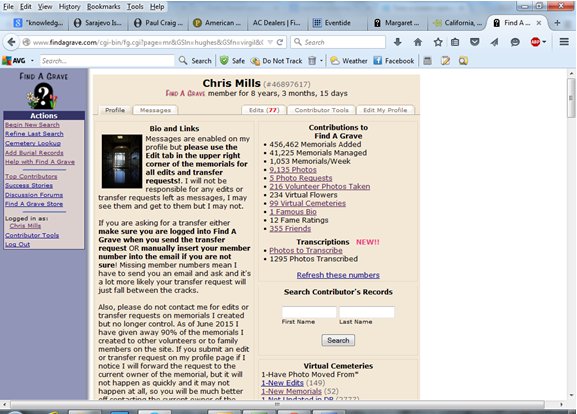 Go ahead and click on the "Contributor Tools" tab, and the screen will redraw to show you some different options. My particular contributor page is busy enough that I can't capture the whole page with a screenshot on my current monitor. So the first screenshot is the top of my contributor tools page and the second screenshot is the bottom of my contributor tools page, where you are looking for a pull down menu that says "Choose Cemetery". By the way, you can choose an actual cemetery with this pull down menu, or a virtual cemetery.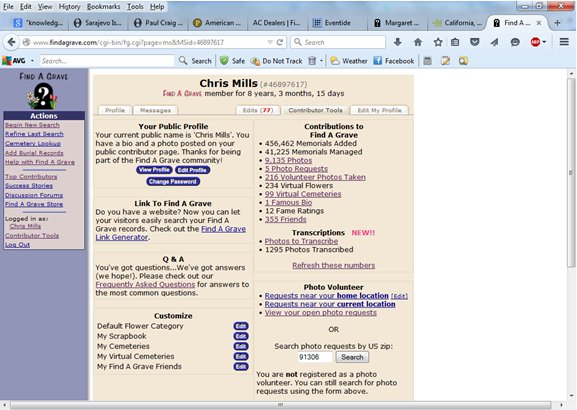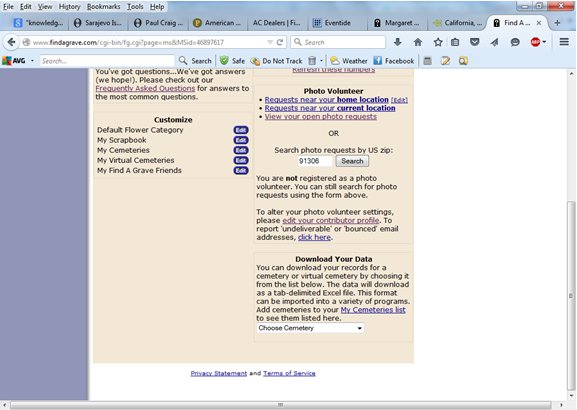 Once you click that pull down menu you will see all of the cemeteries listed that you have added to your "My Cemeteries" options, as well as any virtual cemeteries you have set up. In this case, I choose the "Forest Lawn Memorial Park" option because that's the cemetery I want to pull in my entries from.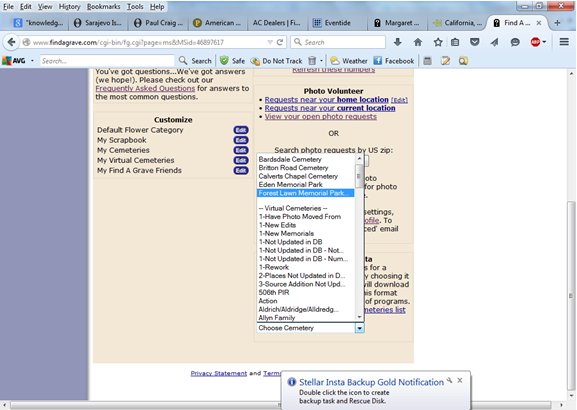 A dialog box should now open asking what you want to do with the list of memorials you are generating from the cemetery. The dialog box defaults to "Opening" the file rather than "Saving" it.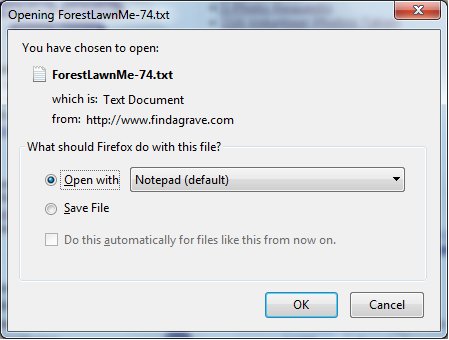 For our purposes we want to Save the file rather than Opening it. Click the option from Open to Save and your screen should look similar to the picture below.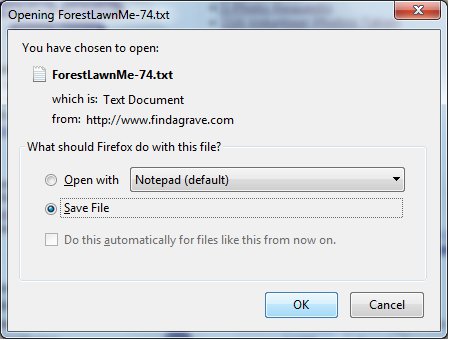 Once you choose the Save option, a dialog box will open allowing you to choose where the file will be saved and what it will be named. All you need to do at this point is to make sure you know what folder you have saved the file in and what name it is given (the default name is a variation on the actual cemetery name followed by a dash with the number of memorials that are included within the file).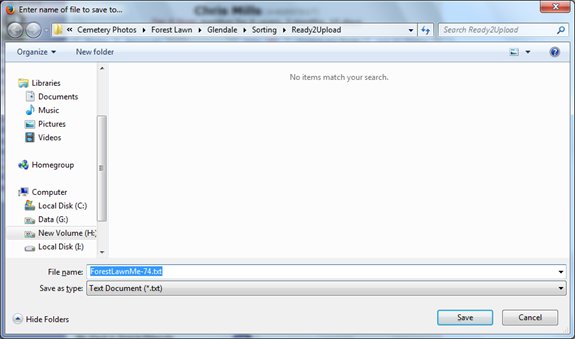 Once you've clicked the Save button it may take a few seconds to a few minutes to save your file. Once the file has been downloaded to your computer you can open it with any program that will open text files. I usually use Microsoft Excel because of the ways I want to manipulate the data within the file, but that is up to each person. You can also email the file to another person if you want them to be able to see what memorials you are maintaining or, for example, use your information to add to or update a database that someone else is maintaining (hint, hint!).
Return to Genealogy Links
Return to Main Page
Contact us
Text © 2015 by Chris Mills, actual screens are property of Find A Grave