Warner Gilbert, Jr. ca. 1925 - 1945



Warner Gilbert was the son of Warner Gilbert (1883-1943) and Kate Leard (1893-1984). He was born ca. 1925 in Union County, Mississippi.

Warner showed up in the 1930 census with his parents and siblings Crystal and Lon. (census image here)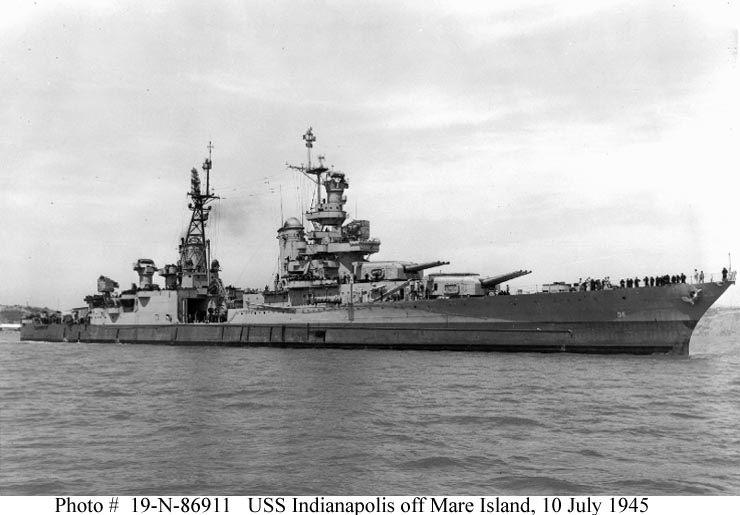 USS Indianapolis off of Mare Island 10 July 1945

There is a lot we don't know about Warner. We don't know his exact date of birth, although that might be available from the Union County vital records, with a bit of digging. We don't know when he entered the U.S. Navy, although I wouldn't think it was earlier than 1943 or possibly 1942. We do know this much, that he was on board the heavy cruiser USS Indianapolis on 30 July 1945. The Indianapolis had dropped off parts at the island of Tinian for the atomic bomb that would later be dropped on Hiroshima, the bomb that was called "Little Boy". After leaving Tinian the Indianapolis went to Guam where crew who had completed their tours of duty were replaced by other sailors. Leaving Guam, she was headed for the Philippines when the Japanese submarine I-58 hit her with two torpedoes, causing her to sink within 12 minutes.

I don't know if Warner was one of the approximately 300 sailors and Marines who died in the initial explosions and the sinking, or one of the roughly 600 sailors who survived the sinking but died in the water over the next three and a half days before a patrol plane discovered the survivors and summoned help. In any event, Warner was not one of the 321 crew members (out of 1,196) who survived the ordeal.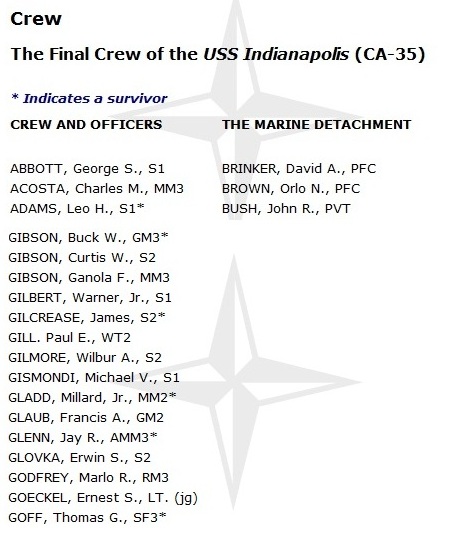 Warner's name on the Indianapolis Crew List


Warner's rank at the time of his death was Seaman 1st Class. His service number was 8434757, and he entered the service from his home state of Mississippi. One set of records listed him as missing in action and another set listed him as killed in action. I am guessing his status was changed after a few days when someone in the Navy realized they weren't going to find any more survivors from the Indianapolis. Warner's mother Kate got a "We Regret to inform you ... " telegram from either the War Department or the Navy Department, and Warner got his name inscribed on a monument at the Fort William McKinley Cemetery in the Philippines. In time, he actually got a bit more recognition. On 25 May 1999 a joint resolution, S.J. Resolution S.25, was introduced into the U.S. Congress exonerating Captain McVay of the Indianapolis of any negligence in its sinking and recommending a Navy Unit Commendation for the ship and her final crew. That resolution was later passed and signed by President Clinton. The name of every member of the ship's crew was then read into the Congressional Record as part of the resolution. In spite of that resolution and the Navy's own admission that Captain McVay was not responsible for the loss of the ship, the court martial conviction for the sinking still remains on his service record.

Other Links

Congressional Record containing S.J. Res. S.25 Begins at Page 10769 (Top of web page is Page 10758)
Final Crew of the Indianapolis
U.S.S. Indianapolis Memorial website
Warner Gilbert page at Find A Grave (memorial in the Philippines as his body was lost at sea)
WWII US Navy, Marine Corps, Coast Guard Casualties Roster Column 3, 2nd name from top










Contact us


Return to Mills-Miller Family Tree
Return to Online Trees Page
Return to Families Page
Return to Genealogy Pages
Return to Main Page





© 2011 by Christopher & Michelle Mills